Printing Rubber Rollers-Ready to Roll

Apex Industries manufactures Printing Rubber Rollers with full accessories named ready to roll Rollers. These Offset Rollers or Printing Rubber Rollers  are for the fast moving Printing Machines like Heidelberg, Komori , Mitsubishi, KBA, Adast and others , Our Offset  Rollers made to OEM Specifications for required core weights, hardness and wall Thickness. These Printing Rubber  rollers are very much cost effective, efficient, and durable. They will give you more output in less . It's our dedication and Involvement in all aspects of printing needs, that keep Apex industries ahead . These  rubber rollers features new steel Cores made on CNC lathes coated with Specially Formulated Rubber Covering, Bearings mounted to guarantees concentricity
Our range of  rubber  rollers will give your press a quality Printing Experience. They are resistant to ink or any wash up and chemicals attacks, hence resistance to scratch and early wear and tear & last longer. having good dynamics Properties i.e. runs cooler which offer uniform Printing throughout, say no to Smudging with our rollers.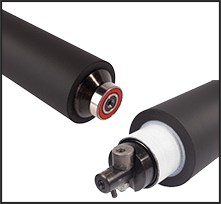 READY TO ROLL ROLLERS ARE COST EFFECTIVE (MORE PRINTING PER ROLLER) AND EFFICIENT
Printing Rubber Rollers Available For The Following Printing Machines:
Apex ACR Series For The Inking Rubber Rollers
This unique Rubber compounds by Apex industries was developed for the perfect ink and water balance with Today's high speed press room consumables in mind. They eliminate the down time inconstantly having to reset Rollers that shrink and swell.
Specially Developed Apex UV Compound also Deliver quality  Printing Rubber Roller that produces great Printing Characteristics, Reduces waste and last longer than most of Traditional UV Roller.
For UV & oil Based Inks
Improved Ink Transferability
Improved rubber Deterioration
Easy To Clean
High Resistant to Ink & Solvent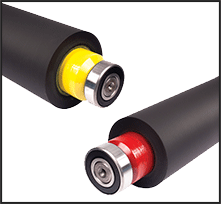 Apex ASH Series For Alcohol Rollers
Durable and very high Chemical and Solvent resistance
Special Elastomer to stay softer for a very long period
Resistance hardening even when continuously  exposed to isopropyl  alcohol and Substitutes
Achieves fine film thickness on its surface  and on plate resulting in optimum  fountain solution on plate
Facilitates more rapid attainment of ink water balance
Excellent resilience, with grinding tolerance less than 5 microns
---